For a second time, Appeals Court refuses to issue stay on injunction against Samsung GALAXY Tab 10.1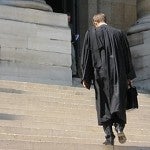 Having been shot down once already with its request for a stay of the preliminary injunction placed on the Samsung GALAXY Tab 10.1,
Samsung once again asked the appeals court for a stay of the injunction
while its appeal is being heard. Once again, the appeals court turned down the Korean based manufacturer. In making the decision, the court said that for Samsung to receive the stay it would have had to show that it had a strong "
likelihood of success on the merits
" or that it had a "
substantial case on the merits
" and was being harmed by the injunction. Unfortunately for Samsung, it shot itself in the foot by making public statements that the injunction against the Samsung GALAXY Tab 10.1 did not really harm the company.
Samsung's request to expedite the appeals hearing was also shot down by the appeals court. The court did say that Samsung could move things along faster by filing its opening brief as soon as possible. At the same time, the court said that Apple will not get any extensions for filing its response.
believed that Samsung had a chance to win at trial, it would have stayed the injunction
which means it believes that Apple will win its case against the Samsung GALAXY Tab 10.1. As Samsung has said, this is not a major issue for the company.
More important is the injunction on the Samsung GALAXY Nexus,
which has received a stay of the injunction ordered by the District Court
. Considering that Sammy did get the stay on this case, the appeals court thinks that
Samsung has a better shot at prevailing in this case
. Of course, it doesn't hurt that
Samsung has already removed local search from the phone
. And as we already pointed out, it has
preemptively removed local search from the AT&T and Sprint versions of the Samsung Galaxy S III
. The so-called Siri '604 patent relating to universal search is at the heart of the patent issue between the two manufacturers. The unlocked GSM version of the Samsung GALAXY Nexus with Android 4.1.1 Jelly Bean installed, has returned to the Google Play Store where it can be purchased.
source:
FOSSPatents