For a limited time, Sprint is offering the 5th line free with its Unlimited Freedom plan
5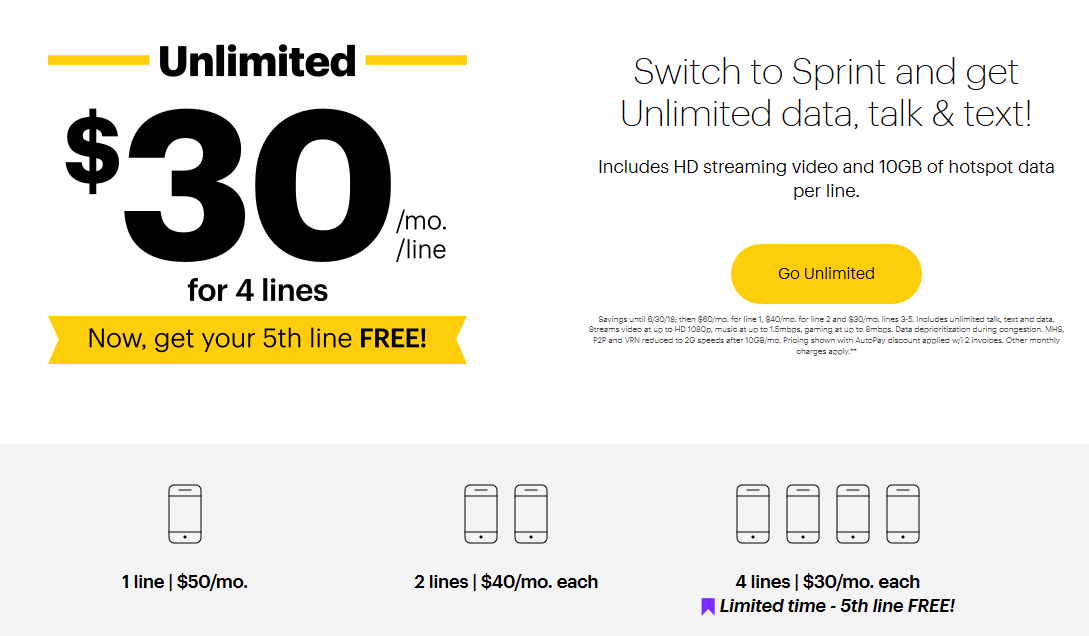 For a limited time only, the fifth line is free for those subscribing to Sprint Unlimited Freedom
The nation's fourth largest carrier, Sprint, fired a salvo across the bow of the SS T-Mobile today. The wireless operator announced that Sprint Unlimited Freedom subscribers can get a fifth line for free. The plan offers unlimited talk, text and unlimited data. Before taxes and fees, five lines will cost $120. This pricing requires that the subscriber sign up for AutoPay, which results in $5 of savings each month. This discount will be applied within the receipt of two invoices.
Sprint's Unlimited Freedom plan offers up to 1080p streaming on video, 8Mbps on games and 1.5Mbps on music. Each line also receives 10GB per month of mobile hotspot data. Sprint points out that T-Mobile customers have to pay extra for the 1080p video stream and the mobile hotspot perks. To recap, Sprint is now offering this pricing for its Unlimited Freedom plan:
Unlimited Data, Talk and Text for $50/month for the first line.
Two lines for $40 month/line.
Four lines for $30 month/line.
Fifth line is FREE.
The deal is available until June 30th, 2018. After that date, Unlimited Freedom will be priced at $60/month for line one, $40/month for line two, and $30/month for lines 3 through 5. That results in a price of $190 a month for the five lines as opposed to the $120 you will pay with this limited time offer. Again, all pricing is before taxes and fees.

"Our customers love Unlimited and they want more and more of the value Sprint continually provides. With our improved network, excellent selection of devices, and simple pricing, Sprint is working for its customers to provide the ultimate wireless experience. Plus, with the capacity of our network, Sprint is best positioned to handle customers' needs in an unlimited world."-Roger Solé, CMO, Sprint
If interested in Sprint Unlimited Freedom, click on the source link or visit your local Sprint store.
source: Sprint