Following the Note 7 recall and investor backlash, Samsung may split in two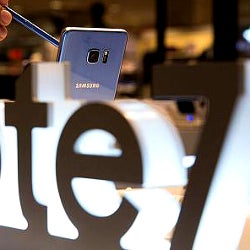 Recently, activist hedge fund Elliott Management, which owns a small stake in Samsung, asked that the crown jewel electronics division of the company be spun off and listed on the NASDAQ, joining the pantheon of tech giants there like Apple, Microsoft, or Google's parent company, Alphabet. This would make Samsung Electronics more transparent and easier to control for shareholders, and would ensure management changes of the type that might have avoided the
double Note 7 recall
.
Samsung is run like a typical "chaebol" structure out of South Korea. "Chae" means wealth, and "bol" is a clan, and that's all you need to know about how companies like Samsung, LG, Hyundai and others are often run - as loosely knit family business conglomerates. The family owns stakes in each of the tens of holding companies, which in turn have ownership in the other firms in the network. This prevents outside investors from breaking up the conglomerate, but also enshrines performance opacity, as well as rigid "no questions asked" top-down management policy.
Well, fast forward to yesterday's board meeting, and Samsung came up with a statement that it is considering a restructuring, and is willing to entertain the hedge fund's ideas, as well as boost dividends. The board of directors recently appointed Chairman Lee's son as a member, which might lead to some drastic changes, at least for South Korean standards. Still, instead of taking the "vulture capitalist" (Korean media term) hedge fund's advice to take Samsung Electronics public immediately, the company memo says:
Samsung Electronics has taken steps to simplify its business to concentrate on core capabilities in the past several years and the Company continues to review opportunities to optimize long-term value. This includes the possibility of creating a holding company structure and the potential benefits and feasibility of listing the Company's shares on additional international exchanges.

As determining the optimal structure is a highly complex undertaking involving important strategic, operational, legal, regulatory and financial considerations, the Company has retained external advisors to conduct a thorough review of the optimal corporate structure.

The review does not indicate the management or the Board's intention one way or another. The process is expected to require at least 6 months and Samsung Electronics will make a decision only after the review is complete.
Needless to say, the sheer notion of public listing for Samsung Electronics with the accompanying external interference in the management process, might have been unthinkable just a few months ago, but the unfortunate Note 7 recall, a timeline of which you can preview below, has apparently resulted in a lot of soul-searching over at Samsung.