Fixing shades of yellow on a Sunday tells us how Steve Jobs upped Apple's stock price a 100 times
11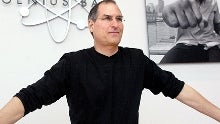 With all the cult about Apple, one might start thinking that Steve Jobs is that ephemeral creature, into yoga, vegetarianism and spirituality, almost floating a few inches above the ground. In his tenure as Apple's CEO, though, this couldn't be further from the truth, it appears.
Google's Vic Gundotra posted an amusing anecdote on Google+ how Steve Jobs called him on a Sunday morning that the Google logo had the wrong shade of yellow on the iPhone, and had to be fixed. Here's Vic's recap of what Steve Jobs told him when he returned his call
after a Sunday morning church service
:
"
So Vic, we have an urgent issue, one that I need addressed right away. I've already assigned someone from my team to help you, and I hope you can fix this tomorrow"
said Steve
. "
I've been looking at the Google logo on the iPhone and I'm not happy with the icon. The second O in Google doesn't have the right yellow gradient. It's just wrong and I'm going to have Greg fix it tomorrow. Is that okay with you?
".
A few minutes later Vic Gundotra had received an email with the subject line "Icon Ambulance", which contained directions for contacting Apple's Greg Christie to work on the right shade of yellow with him.
As smile-inducing as this episode may sound, like something you'd see in the movie "Horrible Bosses", it is a tribute to the personality of Steve Jobs as a CEO. When he took the helm of Apple for the second time in 1996, the stock price has been languishing at around $4, and
recently it broke the $400 barrier
. Not bad of a return for fifteen years, and a proof that details matter.
Watch a slide show of Diana Walker's pictures taken of Steve in his home office below.
source:
Vic Gundotra
via
Geek.com