Five Apple iPhone 5 camera cases
12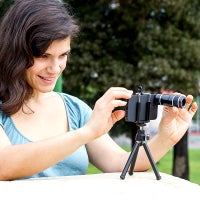 The iPhone 5 carries the best camera Apple has ever put in a smartphone, which is on top of that very easy to use without delving into option menus and submenus, as the phone mostly takes care of everything for itself.
Still, it is just a smartphone camera, and, this side of Nokia's PureView phases, those are generally laughed at by pro photographers except for casual snaps. The iPhone's strength, however, is that there is a whole accessory industry built around it that charges any shortcomings and comes up with amazing solutions to make your phone better in almost every aspect.
This goes for iPhone 5 camera cases, too, and, while there are many exciting projects on Kickstarter or at major accessory shops that will give the 8 MP camera even greater capabilities, we are rounding out a few below that you can buy now, or are just around the corner. These turn the iPhone 5 into a 14 MP camera with optical zoom, add telephoto, fisheye and wide angle lens, or simply aim to fix some shortcomings, so check them out in the slideshow below.