First real world camera samples from the Apple iPhone 4S
46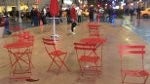 By now, some of us have probably marveled over the eye popping camera samples that were taken on the iPhone 4S, which were in fact
provided to us from Apple directly
, but there's always that small inkling in the back of our minds telling us that they were somehow glammed up. Nevertheless, now that we're in
possession of our very own Apple iPhone 4S,
we decided to take out with us on a short trip to New York City to check out what the talk is all about with its improved
8-megapixel auto-focus camera
.
Needless to say, we really want to show you all what it's capable of doing, but without spoiling all of the fun, we simply decided to snap four photos to give you a sampling of what to expect. Rather than taking shots in brightly lit or sunny conditions, we ended up taking them mostly in the evening to show its prowess in capturing photos in less light. Considering that it features a
larger aperture
(f2.4) and backside illumination, things should appear much better than your typical smartphone camera.
Without spoiling all of the fun, you can decide for yourself if the handset's camera lives up to all the hype, but until we get a good well-rounded feel for its camera, we can't chime in with our final judgment.