Apple iPhone 4S unboxing and hands-on
73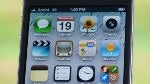 At long last, but after one busy week at CTIA Enterprise & Applications 2011, we're finally back into the swing of things this week, and of course, the long awaited
Apple iPhone 4S
recently came knocking on our front door just waiting to be checked out. Naturally, some people aren't going to be all that immensely impressed with the handset primarily because it's not that next-generation device we all dream about. Rather, the iPhone 4S is simply that incremental upgrade to last year's revamped Apple iPhone 4 model.
In
typical
Apple fashion, the packaging for the iPhone 4S follows accordingly to all previous iPhones in the past with its compact and timeless approach. On the front, there's a close up image of the smartphone showing us all of its fine details, while the sides lay home to some logos such as the iPhone 4S, iCloud, and Apple. Finally, we're treated with some minimal details in regards to the packaging contents, and some serial information in the rear of the box. Inside, there's nothing out of place as find the usual set of documentation, wall charger, USB cable, and those iconic looking Apple earphones.
So with the iPhone 4…err we mean the iPhone 4S, it retains the
same iconic looks
as its predecessor, which isn't a bad thing to tell you the truth, but some are naturally inclined to expect just some minor changes to differentiate itself. Nevertheless, it's still one
premium
feeling handset and it basically exudes all those lovable top-notch qualities we like about the iPhone in general. In between its two glass like materials, they're held together by that polished looking brushed stainless steel band, which doubles as the handset's antenna. This time around, however, Apple has redesigned it to offer improved connectivity – well, we'll be judge of that considering we experienced the dreaded death grip with the iPhone 4. All in all, the iPhone 4S is undeniably a
quality
product, but it lacks that
pizazz
to truly captivate people mainly because of its rehashed design.
On the surface, the iPhone 4S looks exactly like its predecessor, but it's underneath the hood that we find all of its improvements – like its
1GHz dual-core Apple A5 processor
. Turning it on though, our eyes are once again looking intently on its
detailed 3.5" Retina display
, which boasts the same 640 x 960 resolution as before. Indeed, it's by far one of the most detailed displays on the market, but its size is becoming way too distracting to accept wholeheartedly. Nonetheless, its color production and wide viewing angles allows us to visually see everything on-screen without much degradation. Thanks to the processor, everything moves swimmingly in our quick look at iOS 5, but then again, iOS still runs fast with the iPhone 4. Other improvements mentioned by Apple include better battery life, an upgraded 8-megapixel auto-focus camera, and the iPhone 4S specific feature of Siri – Apple's all-in-one digital assistant.
Without question, we're still excited about the iPhone 4S and we'll be putting it through the paces to see how it stacks up in the end. So in the meantime, you can check out the wicked pictures we snapped of the handset and watch our unboxing & hands-on video. Expect our in-depth review soon!