First photo samples from the Sony Xperia Z1f (mini) pop up
14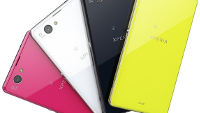 The mini version of the Sony Xperia Z1 has been something of a mystery for quite some time now, yet this angst was wholly removed for Sony fans in its home market of Japan, thanks to
the Sony Xperia Z1f
's launch just yesterday. Speculation has it that the Z1f won't remain a Japanese exclusive, however, and we sure hope to see Sony's little warrior sooner rather than later. Perhaps at CES2014 in January?
Either way, mini versions, likable as they usually are, all share a common flaw -- they go through a downsize in specs, as well as proportions. Not the Sony Xperia Z1f, however. That one has been released packing the full glory of Sony's current top dog -- the Xperia Z1. This means that the same powerful Qualcomm Snapdragon 800 chipset will make an appearance, along with 2GB of RAM. There's been some trimming, of course -- the 4.3-inch display on the Z1f has been pushed down to a 720x1280 pixel resolution, and the juicer at the back is smaller, at 2500mAh. And yet, arguably the biggest selling point -- the 20.7-megapixel camera unit with G Lens stays the same, and we already have access to the first few snaps taken with a Japanese retail Z1f unit. As you can imagine, the snaps shouldn't differ almost at all from those taken with its bigger brother, yet we can't, in good conscience, not share those with you.
The samples were first outed by the Xperia Blog, and the folks behind it report that the Z1f that was used to snap those ran on Android 4.2.2, firmware build 14.1.H.1.281.