First iPad Air benchmarks show a massive improvement over the iPad 4
20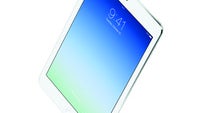 The first set of iPad Airbenchmarks have started appearing, and they serve as harbinger ofwhat's to come this Friday, when the new iPad will be made availableto the public.
Essentially, Apple has definitelystuck to its promise of the new A7 chip being about twice as fast asits predecessor – Geekbench shows a near 90% improvement over theiPad 4 in its multi-core testing, and about as much in itssingle-core one. That's mighty impressive, though we should note thatthe A7 SoC has been tweaked and is running at 1.4GHz, 100MHz higherthan the A7 found in the iPhone 5s. John Poole from Primate Labs, the company behind Geekbench, notes that this could be thanks tothe larger battery (provides more power), a larger chassis (so moreroom for heat dissipation), or a combination of the two. He alsoguesstimates that this higher-clocked chipset won't make it to thenew iPad mini.
It's also worth pointing out thatthe iPad Air provides over 5x the performance of an iPad 2, theoutdated tablet that Apple appears intent on continuing to push,though it only costs a $100 less. We usually keep away fromjudgmental tones, butthis really is starting to feel a little bit like a rip-off.
source: Primate Labs via Apple Insider