Which is a worse deal for $399: an iPad 2 or iPad mini 2?
35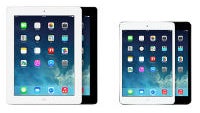 Apple made some very bold moves today, and not all of them were bold in a good way. The iPad Air looks like a very impressive piece of engineering and hardware, and it is certainly a worthy successor in the iPad line. However, Apple also boldly decided to
cling to the past
with the iPad 2 and keep the nearly three year old tablet on the market; and, Apple decided that the price of the iPad mini was too low.
The decision to keep the iPad 2 on the market for
$399
is one that we've talked about at length, but it basically boils down to two things: three year old hardware at last year's price means higher profit margins, and Apple probably doesn't want the original iPad mini to be the only non-Retina tablet on sale. While the first makes some good business sense, neither argument really shows any respect at all for the consumer. Keep in mind that the original iPad mini has almost the same specs as the iPad 2 except with
better
cameras, and it costs $299 (down a touch from the original $329 price point).
On the other hand, Apple decided that its lower-cost iPad mini had a price that was a bit too low, so rather than holding steady at last year's $329 for the iPad mini 2 (and taking the
lower margins
that came with it), it has upped the base price of the new iPad mini to $399. The specs would certainly measure up to that price point with an impressive 7.9-inch 2048 x 1536 Retina display, and the new A7 chipset. But, that's a regular yearly upgrade, and the standard operating procedure for a yearly upgrade is to keep the price steady on the new device and drop the old device by around $100. Instead, Apple has priced last year's iPad mini at $299 (the price it likely should have been when it first launched), and the new iPad mini with Retina display at $399. This is especially expensive when considering the competition clocks in at $229 (Nexus 7 and Kindle Fire HDX).
So, what do you all think? Which is a worse deal: a 31-month old tablet for $399, or a 7-inch tablet for $399?