First detailed look at the Samsung Galaxy Note 4: alleged images leak
99+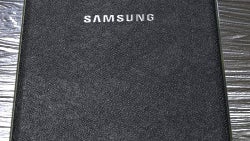 One of the first detailed set of images allegedly showing the Samsung Galaxy Note 4 in its full glory, including both a look at its front and back, have surfaced on the web. The pictures show the Galaxy Note 4 boasting a slightly different than the earlier generation, leather-like finish of the back cover, but rather than using a plastic frame, it seems that Samsung has adopted a metal one.
Where have we seen those metal frames? Hey, it's in the product of a rival company that you can guess for yourself, but it's also in the leaks for the allegedly upcoming Samsung Galaxy Alpha, so if true, it looks like this is the new design direction for Samsung's devices on the whole.
So far, we know very little about the Galaxy Note 4 and all of that information comes from rumors. The display is said to remain at 5.7 inches, but the resolution is rumored to get a bump up to 1,440 x 2,560-pixel, Quad HD heights.
Under the hood, the Galaxy Note 4 is likely to be one of the first to roar Qualcomm's new Snapdragon 805 system chip, but also we do expect to see an Exynos version.
Of course, you can also see a slot for the pen, and the S Pen itself tucked in. Earlier, we've received some more images similar to what we see leaked today on GSM Arena, and those are similar pictures showing what looks like a very early prototype. Will the final version look like this? With more smoke, there must be fire, but we are already seeing some discrepancies between all these leaks: for instance, notice how the front camera on the earlier leaked supposed retail box of the Note 4 is at a different position than what we see on this current leak (thanks, Dominik!). Which one is true, and is any of it real? We advise you to keep a healthy grain of salt always by your side with such leaks as always and inspect them with extra caution.