First WP Nokia handsets likely to arrive after October 2011
15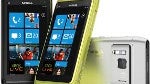 It was quite interesting to see that none of the various Nokia and Microsoft executives who have been giving interviews in the last few days said that Nokia is to adopt Windows Phone 7.
And these words are conspicuous by their absence, strongly hinting that we are not to see Nokia phones running Windows Phone 7, which, in turn, means that the first Windows Phone handsets by Nokia won't see the light of day before October 2011. Why is that?
As you most probably know, Microsoft is to launch a
major WP update
"later this year" - the exact date is unknown, but it's highly probable it will be released sometime in October 2011. This update, codenamed
Mango
, will bring plenty of goodies like multitasking, HTML5 support and a browser based on IE9 - but more importantly (for this story), it's probable that it won't be called Windows Phone 7.
Rumours say it's to be named Windows Phone 7.5 or something like that, and only when it's released we will see the first WP Nokia phones.
Also, it's likely that Microsoft will rebrand its Zune music service, but it's yet unknown whether it's viable to expect any major changes in this platform feature-wise.
Nokia's official stance is that it expects to ship WP handsets "in volumes" by 2012.
source:
Guardian