First Sony Xperia Z3+ benchmarks crop up, flagship posts unimpressive results
50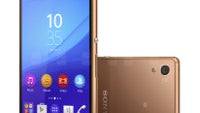 We were given a heads-up before it happened, and now it
has
happened — Sony officially unveiled the Japan-exclusive Xperia Z4 for the international market just two days ago, but
it'll be called the Xperia Z3+
. Regardless of the name change, the two devices are actually identical and flaunt the same, high-end hardware. Now, we're getting the first test results from performance benchmarks, telling the story of how well the various parts work together.
Before we get into the meat, here's what you need to know. The Xperia Z3+ sports a 5.2-inch display with a pixel resolution of 1080 x 1920, is powered by 64-bit, octa-core Qualcomm Snapdragon 810 processor with Adreno 430 graphics, and packs 3GB of RAM. In all, that's a pretty solid, flagship-worthy configuration that is sure to perform well. In reality, however, while we do not at all doubt the device's ability to handle whatever it is you decide to throw at it, it would appear that it does, nevertheless, perform worse than competing products.
The aforementioned tests, ran by Chinese
ePrice
, consist of runs through specialized benchmarking apps, including AnTuTu, Vellamo, and Basemark ES 2.0. With AnTuTu, we've got a score of just under 51,000 points, 1447 points in the Metal section of Vellamo, and 3435 points in the browsing test. You can see how that compares with the current crop of competing flagships below, but the gist of it is this — not very well. Indeed, smartphones like the Galaxy S6 and S6 edge, the HTC One M9, and even the Snapdragon 808-toting LG G4 all scored better, and in some cases — significantly better.
Lastly, as we're sure the techies in the crowd are already wondering about this —
ePrice
reports a peak temperature of 40.2 degrees Celsius (104.36 Fahrenheit) for the CPU after finishing with the trio of tests mentioned above. That's a bit on the hot side, but we're told that the Z3+ felt "perfectly acceptable" in the hand. Not having a body that is essentially a hunk of metal likely helped with that.
Recommended Stories