First Infinity Blade III Special Event ClashMob unites players against movie villain
3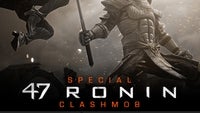 Chair Entertainment, makers of the iOS action RPG series Infinity Blade, and Universal Pictures announced the first-ever Infinity Blade III Special Event ClashMob. ClashMobs gather players around the world who complete unique game challenges to win exclusive rewards. What makes this one special is its tie-in with the upcoming movie 47 Ronin, starring Keanu Reeves.
Running between Friday, Dec 13 and Tuesday, Dec 24, the 47 Ronin ClashMob will unite players against the Samurai Brute, a villain from the film, in a battle for the Brute's sword - an exclusive weapon available only to those who participate in the event. Judging by the trailer, the Samurai Brute's imposing stature is a perfect fit for Infinity Blade's universe that's full of sword battles and giant monsters.
Watch the trailer to get in the mood for battle, sharpen your blade and go test it against the heavily-armored Brute this Friday. You will meet again when the film, 47 Ronin, hits cinemas in the US on Christmas Day 2013.
Infinity Blade III was announced together with the iPhone 5s
, and launched on the App Store on September 18th, 2013. Having debuted in 2010, the Infinity Blade games are exclusive to iOS and are known for showcasing the graphical prowess of Apple's mobile devices.
source:
infinityblade.com
via
TouchArcade