First BlackBerry 10 "full touch" device will come with a 768 x 1280-pixel screen
3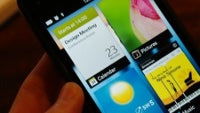 The first BlackBerry 10 devices are not coming until 2013, but while we have to wait more for them, RIM is slipping some interesting details along the way. The last one is a confirmation straight from Canada that the
first BlackBerry 10 "full touch" device
will come with a screen sporting a resolution of
768 x 1280 pixels
.
Full touch here is clearly opposed to the Bold-like full physical QWERTY form factor. Now, it's official that RIM is launching a Bold-like device and its resolution will be 720 x 720 pixels.
But that's not everything. The big news for developers is that RIM is standardizing two resolutions for future devices. This will allow devs to plan ahead of time for those two resolutions and be reassured that their apps will be supported on the same resolutions in future devices. In a nutshell, there will be two types of BlackBerries in the future:
Full touch devices: 720 x 1280 (16:9)
Keyboard devices: 720 x 720 (1:1)
Now, as you can clearly see, the standard BlackBerry 10 horizontal resolution of 720 pixels differs from the 768 pixels in the first BB10 touch device. That's just because the first device by now is very close to launch and it's too late to make changes in resolution. Further devices, though, will come with 720p screens, not 768p.
This move to standardize resolutions is definitely one inspired by RIM's developers, not just coming out of the blue. It's also reflected in the developer frameworks. The slight shift in resolution, though, will result into some more work for app and game developers. They could either design different versions of their apps for those resolutions, or leave 24 pixels on each sides to make up for the difference with the first BB10 device.
source:
BlackBerry
via
N4BB
Recommended Stories