Firefox Launcher for Android is revealed
17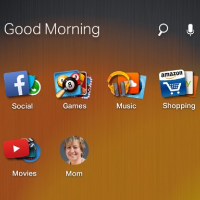 At the InContext Conference on Wednesday, Mozilla showed off the Firefox Launcher it has designed along with EverythingMe. The launcher is said to deliver a customized experience for Android users, while allowing users to quickly find any app on their phone. The launcher uses the contextual app search found in the recently launched EverythingMe launcher, combined with the Firefox for Android browser.
The Firefox Launcher offers you recommendations and smart searches will recommend apps you already have installed, along with other ones that match a searched keyword. In the morning, the prediction bar suggests apps related to the weather. Think of the information you might hear on the radio during morning drive time. In the afternoon, the recommended apps might lean toward your calendar, local businesses (to find a restaurant for the evening) and some news apps so you can check what has happened that very day.
When you use the search feature on the launcher, related apps and websites you've visited appear on the phone. And the links go pretty deep. As an example, if you search for Katy Perry, instead of seeing the Spotify homepage, the launcher will reveal a Spotify shortcut to the singer's artist page. And if you search for 'news' or 'tech', you will see cards with relevant information to your search, including videos.
The app still has some work in front of it, before undergoing beta testing.
source:
Mozilla
via
TechCrunch