Fired Apple keynote executive producer sues, claims Steve Jobs promised him a lifetime job
33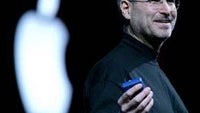 Wayne Goodrich, who used to work for Apple, filed an unlawful termination suit against its former company, claiming that Steve Jobs promised him a lifetime employment, regardless of what happens with his position.
There he says that he has not been shown the door for performance, but rather for "business reasons", while his lawyer argues the termination might have been to avoid granting him the restricted stock due, all the while Apple shares ballooned from $97.4 to
way over $600 now
.
What was Wayne Goodrich in charge of? Well, he had the important role of
coordinating those famous keynote speeches
, working directly with Steve Jobs, including the iPhone and iPad introductions. He also says that he was the first to introduce Apple to Siri, arranging a meeting that resulted in the biggest iPhone 4S software differentiation last year.
Mr Goodrich says he met one on one with Steve Jobs after he returned in 2005 from medical leave, and was promised a position with Apple perpetually, no matter what happens with his duties, which apparently SJ has the habit to do quite often for people that worked directly with him on issues. We'll see how the story pans out, but for now it seems Apple has no use for an executive producer of keynote presentations the way Steve Jobs did.
Recommended Stories