Finally! Android M scores a new, system-wide dark UI theme
27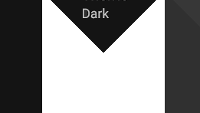 Guess what, Android fans? Google has most probably kept an ear close to the ground, as the next Android rendition will bring a feature requested by many a user - a dark theme for the UI.
Hidden deep in the Developer options menu is a feature that allows you to choose between two UI themes - light and dark. Hooray, users of phones with AMOLED displays, your wish has been granted!
Apart from the two themes, users can also opt for an automatic mode that will most likely switch between the light and the dark themes according to the time of day or another variable, probably.
At this point, Android M doesn't come with many new visual changes, but the new UI theme is a newcomer that will certainly appeal to many, many Android fans.
What do you think about it? Drop a line below!
Recommended Stories