Feint Spotlight 1.1 brings more social gaming features to Android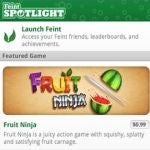 OpenFeint has released the Android version of Feint Spotlight 1.1, which will allow Android users to participate in various cross-platform social gaming features. Users will be able to unlock awards/achievements, track their progress on the global leaderboards, and connect with their friends, much like Apple's
Game Center
.
Version 1.1 will even allow you to integrate your Facebook contacts, so you can see what and how your friends are playing. If you're any kind of gamer, you know how fragmented the social gaming networks have become. In addition to your
Xbox LIVE
account, you have your PlayStation Network, and now your mobile devices. OpenFeint at least integrates iOS and Android.
But we have to ask: how interested are you in social gaming? Between our Facebook, Twitter, LinkedIn, and Foursquare accounts, we're starting to run out of social networking RAM. Have you reached your social networking saturation point?
source:
OpenFeint
via
Android Central