Faux Windows Phone tablet made with Mimo Magic Touch monitor
1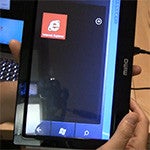 If you've never heard of the Mimo Magic Touch monitor, it is a USB-powered, multi-touch capacitive touchscreen that can be added onto a PC as a secondary display. This 10" screen runs for about $299.99 and is targeted to be used as a touchscreen control panel in a variety of applications.
Social Ebola, a Windows Phone developer, has found another use for the Mimo Magic Touch – combine it with a Windows Phone 7 emulator and you have a faux Windows Phone tablet. As you can see in the video below, the performance is nice. The gestures all seem to work smoothly with no lag.
This little trick does require the Mimo to be tethered to the PC via USB, so you can't take your WP7 tablet on the go, but, as Social Ebola points out, it can be super helpful to developers who want to be able to interact with their apps with touch support during the development process.
source:
Social Ebola
via
Engadget