Faulty screen causes T-Mobile to suspend sales of Nokia 5610 XpressMusic
11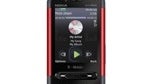 A phone that doesn't have a properly working screen doesn't function too well, now does it? Though an initial rumor claimed that T-Mobile was permanently discontinuing the phone, that's not exactly true - the company is simply suspending sales of the device based on a "defective component" in the screen, creating the potential of a blank LED screen. Below is the official press release:
T-Mobile has temporarily discontinued sales of the Nokia 5610XpressMusic to address a defective component in some units that maycause the LED display to go blank. Although we believe the issue to belimited to a very small percentage of devices, T-Mobile and Nokia arecommitted to providing the best customer experience, which is why weare temporarily suspending sales of the device until Nokia has resolvedthe issue. If a customer has purchased a Nokia 5610 XpressMusic and isexperiencing issues with their device, they should contact T-MobileCustomer Care or visit a T-Mobile retail store, to discuss availableoptions.
T-Mobile says you can come down to the store to "discuss availableoptions," but we say keep it - that white LED screen would make a killer flashlight.
source:
T-Mobile
via
Gizmodo