Family Guy mobile game in the works for 2014
5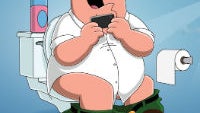 If you're a fan of crude humor and mobile gaming, you may be in luck. It has been announced that Fox Digital Entertainment is working with game developer TinyCo to get a game made based on the animated series Family Guy. The game hasn't yet begun development, but it is planned for release in 2014 on both Android and iOS.
TinyCo is the development studio behind Spellstorm, Tiny Village, Tiny Monsters, and Tiny Castle. The trouble is that none of those games give any indication of what to expect from a Family Guy game. We certainly aren't expecting a card-based fighting game like Spellstorm, or a sim like the Tiny games. Unfortunately, the announcement doesn't give much info on that either. All it says is that the game will feature an original story based on the entire 212+ episodes of Family, including "current events". Fox has also added that you will go on an adventure through Quahog, recruiting popular characters, but that really doesn't help either.
TinyCo does seem pretty dedicated though. The company told
Polygon
that it is excited to create "really interesting and unique stuff in terms of our content updates," and that it wants "you to feel like you're playing the show." It sounds pretty cool, and we're looking forward to future updates.