Falcon Pro now hides a workaround for Twitter's token policy
3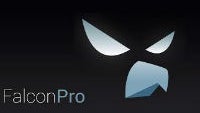 Falcon Pro has been a very popular Twitter client for Android, but it has had repeated troubles because the app was created after Twitter started locking down its API and putting token limits on apps that didn't do anything more than offer a variation on the official Twitter app. Falcon Pro has hit the token limit multiple times, but the newest update has an interesting workaround for users, if you can find it.
The app update itself is easy to find, developer Joaquim Vergès has posted the APK on the app's website after pulling it from the Google Play Store. Those who already have a valid token for the app can download the update and they'll get a new mobilizer feature to make websites look better. However, the far more interesting addition is a hidden workaround for those who didn't get in on the app before it hit the token limit.
It took the first details of how to access the workaround about two hours to hit the web. Once you access the workaround, Falcon Pro walks you through registering a fake app on Twitter's developer site, then use the API keys to unlock Falcon Pro. It's the most interesting move yet by Vergès, who has resorted to resetting the app tokens two or three times to help users get access. Vergès says he has been trying to contact Twitter to remove the limit, but nothing has come of it.
After moves like this, we can't expect Twitter to be too helpful, and we certainly don't expect this loophole to persist, but we'll see.