Fake "proprietary screw" experiment shows how easy it is to hoodwink the Apple blogosphere
29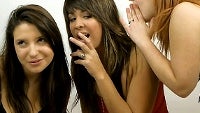 By now it is an everyday phenomenon that each small step Apple takes or doesn't take - from trivial patent filings to the type of trees on the Cupertino campus - is being reported with zealot frenzy by the Apple-dedicated blogs and most every other publication that focuses on the industry.
Last week Lukasz Lindell, a Swedish designer, decided to show just how easy it is to make Apple news out of thin air and bamboozle the reporting community. He created a very convincing, but entirely impractical screw design in his 3D rendering program, shot the picture in an email to himself and took a screenshot to make it look like James Bond work.
He then submitted the report to Reddit, implying in the email body that this is an asymmetric Apple screw that has been in development to keep prying hands off of the iGadgets. Needless to say, in a few hours Apple-dedicated blogs picked on it, and, while at first the story was reported with shreds of doubt about the source, after it hit Facebook comment streams, all critical thinking was lost, and the deep analyses of the implications behind this proprietary asymmetric screw began, until the hoax was revealed by the Swedish designer:
It is somewhat disturbing at times when the bandwagon takes off and speeds up, without people being critical. People stand up for situations that may never have happened, and spin on it which ultimately results in that it will be treated as facts, or a faktoid.
We rendered the image, put it in an email, sent it to ourselves, took a picture of the screen with the mail and anonymously uploaded the image to the forum Reddit with the text "A friend took a photo a while ago at that fruit company, they are obviously even creating their own screws.
Finally, we just want to say sorry to you who feel cheated, but the meaning behind the experiment may provide a longer-term results, that we become more thoughtful about things we see on the Internet.
This experiment confirms once again how powerful Apple's viral marketing strategy is - the company rarely issues official statements or touts its products outside of its website, stores and announcements, but each small step it takes creates enough buzz to keep it front and center in the tech news cycle every day of the week.
Recommended Stories