Fake Spotify app lands on the Windows Marketplace
3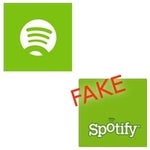 Spotify, the well-known music streaming service, has been
available on Windows Phone
handsets for almost two months now. However, on December 20, yet another "spotify" has somehow sneaked into the Windows Marketplace, and you should totally stay far away from it.
Apparently, some wise guy is trying to cash in on the service's popularity by releasing a
fake Spotify application
. Priced at $0.99, it bears the same name and even uses an icon similar to the one the real app is recognized by, which is why an unsuspecting user can be easily fooled into downloading the rip-off and ending up with software they didn't really want nor need. Judging by its screenshots, the fake Spotify app is nothing more but an RSS feed reader of some kind. Still, we wouldn't really waste a dollar to find out what it really does. And since it requires permissions to access the device's owner identity and phone identity, who knows what the app's real purpose may be.