Fake Google Babble screens appear
3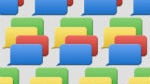 Recently, rumors came out that Google could be working towards unifying its various messaging clients - GTalk, Chat for Docs, Google+ Messenger, Hangouts, and possibly Google Voice - into a single client, called Babble. The idea itself is sound, so we do expect to see the product by Google I/O, but there are new screens that have come out, and we want to warn you: they are fake.
We're not even sure how this leak is getting any credibility at all, because it took about 2 seconds to run the image through a Photoshop checking tool, and as you can see below, it is a heavily edited image. The original image is first, and below is the Error Level Analysis output. The brighter the colors (or "rainbowing), the more edited that part of the image is. As you can see, the Babble image has been shopped in, as have the images.
We hope we'll see some real Babble screens soon, but this isn't it.