Fahrenheit for iPhone Review
4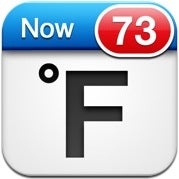 Introduction
There are times in life when looking out the window to figure out what the weather is simply feels like too much of an effort. That is when our smartphones come in handy with their trusty weather applications and widgets – a single glance at your device's home screen is enough to find out whether you will need a raincoat or a beach towel should you decide to go outside and will even provide you with a reliable weather forecast for the days ahead.
Fahrenheit
is an iOS weather application that is unique in its ability to display the current outdoor temperature right there on your Springboard. If you have ever used an iOS device, you probably know that the built-in weather app cannot do that and will constantly tease you with its icon fooling you that it is sunny and 73 degrees outside. The magic is done in a very clever way – by making iOS think that Fahrenheit has a number of pending messages to display, which causes iOS to show a notification bubble on the app's icon with the number of messages being the current outdoor temperature.
Functionality
ton of information
that it provides such as the UV index for the day, current wind speed and a 3-hourly forecast. If that is not enough, Fahrenheit can also draw pretty temperature maps and a cloud radar view of the area. The app can even tweet weather data with a couple of taps – a feature that we tried ourselves and found out that it works like a charm. Fahrenheit may be a
full-featured weather application
as it is, yet its functionality can be extended even further. If you have an extra dollar to spend on an in-app purchase, you can add satellite, wind, and rain radars to the list of features that the app has.
sub-zero temperatures
on its Springboard icon because the number of notifications simply cannot be equal to or less than zero. In such cases, the app will notify you of the temperature drop with a message.
Conclusion
So, is it worth spending
$0.99
on Fahrenheit? Well, despite being a great weather app with more than a few useful features, it would be wiser to wait for iOS 5 and see what the platform's revamped weather application will have to offer. On the other hand, a dollar will not really hurt your budget, so if you need a weather app right now, then we would certainly recommend giving Fahrenheit a shot.
Fahrenheit
for iPhone [iTunes link]