Faceoff on Facebook as AT&T and T-Mobile continue 4G Feud
16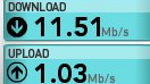 Last night, we
reported
that AT&T had some issues with T-Mobile calling itself America's largest 4G network. The latter has decided to call its HSPA+ network that runs at 21Mbps a 4G network. The former has replied that not only does its HSPA+ pipeline hum along at the same 21Mbps, they cover 40 million more Americans than T-Mobile does. The verbal fisticuffs have started just as T-Mobile has aired new television commercials ripping AT&T, Sprint and the Apple iPhone.
On AT&T's Facebook page today, the mobile operator pulled no punches. "Hey Fans! You may have seen T-Mobile smack talking our network (seriously TMo?) and calling their HSPA+ network "4G" in order to claim they have the largest "4G" network. Not so fast...we have 180 million folks on HSPA+ already...40 million more than they do. They also claim 200 million by year's end but we'll have it to 250 million this month. So their network isn't bigger or faster. Just calling 'em as we see 'em."
T-Mobile replied on their Facebook page. "Hey AT&T-it is easy for us to be proud when we have the 4G network to back it up. We challenge you to show us any data speeds on an AT&T iPhone that can top the speed on the T-Mobile myTouch 4G. But you don't have to take our word for it. Check out these amazing speed tests screenshots from our T-Mobile fans.
http://goo.gl/P0wk3"
This is beginning to remind us of an NHL fight where both players have their sweaters up over their heads and are flailing away at nothing. Still, someone could lose an eye if this gets any rougher.
source:
Facebook