Facebook plans on competing with Google, Amazon and Apple by offering its own AI feature
3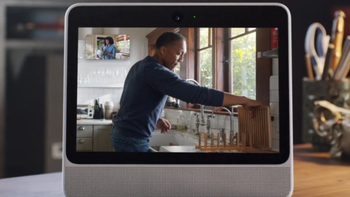 You probably are familiar with most of the big time virtual digital assistants including
Google Assistant
, Amazon's Alexa, Apple's Siri, Microsoft's Cortana and Samsung's Bixby.
CNBC reports this afternoon
that according to people familiar with the project, Facebook is developing its own virtual assistant. Considering that the company has launched a line of smart displays under the Portal name, it would make sense for Facebook to equip these devices with its own assistant. Right now, Portal users interact with Alexa for complex tasks.
The Portals are available from a Facebook website and unlike the competition, the camera is designed to follow the user as he or she moves around. Facebook says that "the Portal was created with privacy, safety, and security in mind." Considering that we are talking about the company
that allowed 87 million user profiles to be used by Cambridge Analytica
, excuse us if we're not totally convinced. Still, Facebook says that it doesn't listen to, view or keep content related to calls. The Portal comes with a 10.1-inch HD display for $99. The Portal+ costs $249 and features a 1080p Full-HD display. Both models are equipped with a 12MP front-facing camera and an ambient light sensor.
Facebook's virtual assistant might also be used with its Oculus VR headsets. In fact, the Facebook division in charge of the project is the company's AR and VR group, which builds hardware like the Oculus headsets.
Back in 2015, Facebook launched an AI-based assistant for the Messenger app that was called "M." While it did use AI to help answer users' questions, more complicated tasks would require a human to do the dirty work. In other words, requests that "M" could not handle were farmed out to flesh and blood contractors sitting in a huge call-center. Last year,
Facebook took "M" out back and killed it
. In a way, this is similar to what Facebook has installed on the Portals. Say "Hey Portal" and simple tasks can be completed. But again, Amazon's Alexa is responsible for more complex requests.
Perhaps watching how Amazon has built up Alexa, which many consider one of the top two digital helpers along with Google Assistant, has given Facebook the incentive to build one of its own.