Facebook forcing Android users to download its Messenger app, chat on mobile site going away?
48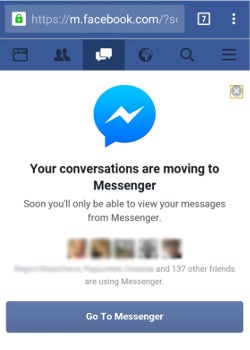 You know how Facebook is constantly looking for new ways to turn different functions of its web version into standalone apps? Main app, Facebook Messenger, Facebook Mentions, Facebook at Work, Sound Clips for Messenger... the list goes on. Of course, not everyone needs all of them and most people just settle for the main app and Facebook Messenger.
Then there were those who shunned away from even these two basic apps and opted for the mobile version of the site instead. Nothing wrong with that really, but if you fall in the latter group you're in for a nasty surprise – Facebook is trying to force Android users to make the switch to its messaging app.
If you go on facebook.com from an Android phone and try to access the messages tab, you'll be greeted with the following message:
"Your conversations are moving to Messenger. Soon you'll only be able to view your messages from Messenger."
You'll only see it for a split second, before you are redirected to the Messenger app, if you have it installed, or to the Play Store to download it. You can go back and see the message in its entirety, but there's nothing much to look at. There's a big blue button prompting you to go to the app and an "x" tucked in the right upper-hand corner of the screen. Tapping the "x" takes you your conversation list, but if you tap on one of them – cue drum roll – back to the Play Store with you! You can backtrack and tap the "x" button again which will finally let you message someone but at this point the effort is not worth it, in our opinion at least. But hey, you can try to use the desktop version of Facebook on your device.
This scheme seems to affect Android users only, as our tests have confirmed that the mobile version of Facebook on iOS and Windows devices has no such trickery up its sleeves... for now.
source:
Android Police