FaceTime does not work over 4G on the new iPad
25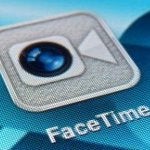 The Wi-Fi + 4G variant of the new
iPad
has support for HSPA+ at 21Mbps, DC-HSDPA at 42Mbps, and LTE peaking at 73Mbps. Sadly, none of these awesome-sounding figures and abbreviations matter if you are a FaceTime user. That is because
FaceTime does not work over 4G on the new iPad
, as the guys at
The Verge
have discovered.
Actually, that shouldn't come as much of a surprise as FaceTime did not work over 3G either. And even though Steve Jobs once said that Apple will try to work things out with the wireless carriers, it seems like the feature will remain Wi-Fi-only in the short term. Ironically, the
Wi-Fi + 4G iPad on Verizon will get Wi-Fi hotspot functionality at no extra cost
. That said, several iOS devices can hook up to the tablet's 4G connection and use FaceTime anyway, although the feature will still eat up about 3 megabytes per minute off the iPad's data plan.
So yeah, all of you
people lining up for the new iPad
may not be happy to hear that, but FaceTime is still a Wi-Fi-only feature. If you are now looking for a way to extinguish your frustration, feel free to drop us a comment below.