Regulatory agency temporarily halts review of T-Mobile-Sprint merger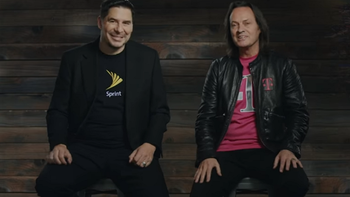 T-Mobile's purchase of Sprint for $26.5 billion awaits both FCC and DOJ approval before the deal is allowed to close. The FCC typically gives itself 180 days to review a merger that is under its purview. That informal so-called "shot clock"
was halted once in September
when the FCC said that it needed more time to review additional documents provided by the two wireless providers. After the clock restarted on December 4th at day 55,
it was frozen again in January
when the federal government was shutdown. When the shutdown ended, the clock started running again.
For a third time, the FCC has called a timeout.
Reuters reports
that on Thursday, the regulatory agency announced that it would add three additional weeks to the review period to allow time for U.S. consumers to weigh in on the proposed transaction. The FCC decided to ask for this extra comment period after new information was filed by T-Mobile and Sprint regarding how they plan to integrate their operations from 2019 through 2021. The clock will start again at day 122 on April 4th.
T-Mobile CEO John Legere allegedly told Sprint employees during a Town Hall meeting in October
that the merger will add 3,000 new jobs
after the deal closes, rising to 11,000 new positions by 2024. Usually, a company being acquired in a merger faces job cuts as employees in duplicate positions are fired. And T-Mobile expects to close a number of Sprint stores that overlap with current T-Mobile locations. That is why the Communication Workers of America (CWA) expects
28,000 current employees of both firms to lose their jobs
if the deal is approved.
Regulators are also concerned that wireless pricing will go up following the merger since it would eliminate one of the four major U.S. carriers. Others point out that the combined T-Mobile-Sprint could be considered more of a threat to AT&T and Verizon, which could keep pricing down.
T-Mobile CEO John Legere said the other day that he expects to close the deal with Sprint during the summer.