FCC blesses BlackBerry Bold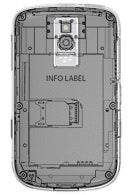 The FCC approved the BlackBerry Bold, RIM's latest officially announced smartphone. This is the GSM with UMTS 850/1900 variant, which is what AT&T will offer. There is no new information, most documents are still hidden and although the model is marked as XXXX, the graph surely looks as the back of the Bold.
Now approved by the FCC, the Bold can finally be available for purchase. However, it is unsure as to when AT&T will offer it. Since the iPhone 3G is coming on Friday, BlackBerry should try to rush the Bold to come as soon as possible, in order to prevent Apple stealing more and more of their customers.
RIM BlackBerry Bold Specifications
source:
FCC