FBI app for iOS stores child's data on your handset in case he/she goes missing
3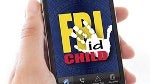 If your child goes missing, you will want to have
all of his/her information stored on your phone
and sent to the proper authorities. Thanks to the FBI's new app for iOS devices, the FBI Child ID this all can be done with the click of a button. Identifying information like photos, weight, height, birthmarks are all sent via email to the FBI. And because time is of the essence when a child is missing, the extra minutes saved by using this app could truthfully be the
difference between life and death
.
Besides storing and disseminating information on your kids, the app gives you hints and lessons on how to keep your children safe. And if the worse case scenario were to occur, the app will give you information on what to do to
get past the first few hours
. One click can get you connected to your local 911 operator or the National Center for Missing and Exploited Children.
If there is one problem with this app, it's that it is
not password protected
. Should someone get possession of your phone, they might learn some vital info about your kids. Despite this flaw, the FBI Child ID app is still worth installing, but let's hope you never need to use it. The app is available as a free download from Apple's iTune store. The FBI plans on making it available to
other mobile platforms in the future
. Oh, in case you were worried, the information you provide on your child is not sent to the cloud but is kept on your device, as we noted above. As long as you keep a sharp eye on your phone, there should be no problem.
source:
FBI
,
iTunes
via
Textually