FAA may allow you to use "reading devices" during takeoff and landing this year
1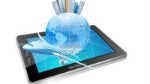 If you're more of a digital person, you may get pretty annoyed when on a flight and you are forced to put away your tablet or e-reader away during takeoff and landing. If your device is in airplane mode, it shouldn't really make much difference, but the rules are the rules, but the rules may be changing. The FAA may start allowing the use of "reading devices" during takeoff and landing later this year.
Last year, the FAA commissioned a study of the issue by representatives from Amazon, Boeing, the CEA, FCC and others. Word from industry insiders say that the results of the study should be announced by July 31st, and the FAA is hoping to announce a relaxation of the rules by the end of the year. It's unclear what devices will be included as acceptable, but it has been made clear that cellphones will still be banned. But, it seems likely that at the very least tablets and e-readers will be allowed as long as they are in airplane mode.
This seems like the least the FAA can do, since it has already given the approval for
pilots to use iPads
in the cockpit, and
flight attendants
can also use tablets of their own throughout the flight.