FAA advisory panel recommends use of personal gadgets during takeoff and landing
9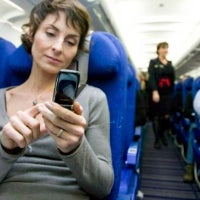 According to a report from the AP, a 28 member FAA advisory committee recommended that airline passengers be allowed to use a wide array of personal electronic devices during takeoff and landing. The list of devices includes smartphones, tablets and eReaders. If true, this report doesn't really surprise anyone since back in March 2012,
the FAA had announced that it was going to seek wider usage of personal gadgets
on board aircraft. The FCC chimed in last December, asking the FAA to approve the use of handsets, tablets and eReaders during takeoff and landing.
The FCC prevents the use of personal gadgets on an airliner until cruising altitude (10,000 feet) has been reached. But it has become obvious that the use of these devices during takeoff and landing do not cause interference that will quickly put a plane into a tailspin from which it cannot recover. Furthermore, the FAA has recently allowed certain airlines to
replace certain heavy, paper charts and maps used by pilots in the cockpit, with an Apple iPad
. If a tablet can be used in the cockpit without planes falling from the sky, they are safe for passenger use is the theory coming from some supporters.
The recommendation made by the advisory committee would still require gadget owners to shut down all the radios on their device by using Airplane Mode. In other words, no one will be able to use the internet, download data or make and take calls. But the device could be used to read a book, watch YouTube videos loaded to your device before boarding the plane and listen to music. The new plans could be implemented in early 2014 if the FAA doesn't bog it down by requiring carrier by carrier approval. But Sen. Claire McCaskill, D-Mo, a critic of the current regulations, says that if the FCC starts stalling, she will introduce legislation to remove the current rules "swiftly".
"We've been fighting for our customers on this issue for years — testing an airplane packed full of Kindles, working with the FAA, and serving as the device manufacturer on this committee. This is a big win for customers and, frankly, it's about time."-
Drew Herdener, Amazon spokesman
source:
AP
via
SlashGear