Expect Ubuntu smartphone to ship to customers in October 2013
17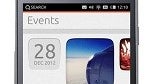 Things look to be running a bit ahead of schedule at Canonical. Things are on track to have Ubuntu OS available for developers later this month and Canonical expects to have a consumer device in "two large geographic markets" by October rather than early 2014
as was previously announced
.
Mark Shuttleworth, founder and CEO of Canonical, did not commit that the United States or North America would be one of those markets, but did say that North America is a "key market for Ubuntu." Shuttleworth also noted that there is carrier interest in the platform, though did not mention which carriers or manufacturers will be partnering up for the Ubuntu rollout later this year. Samsung's Galaxy Nexus has been the hardware being used to optimize the platform.
Ubuntu will be a wholly gesture based experience, no lock screen, no home button, meaning a completely new user experience is in store for us. Think of the content being the interface. The experience is inspired by some basic tenants of Japanese architecture where a balance between space and objects is strived for. Gestures from the outside-in allow access to most used apps, controls and the operating system itself.
While gesture based interfaces are not ubiquitous, the learning curve is usually very short and those gestures develop quickly into muscle memory. Ubuntu, as an open-source code, would seem to be an invitation for all sorts of "wild west" activity of hacking and customization of the design the Canonical is putting into it. However, Canonical believes that the open-source environment will only lead to even greater designs.
The promise of what Ubuntu could be once it is available looks and sounds great, but once October rolls around, that is when the real challenge begins. Interest and intrigue will be important to have in full swing, since that time of year usually involves all manner of other product and platform releases in preparation for the holiday shopping season.
Check out the pictures below of how the user experience is shaping up. Is Ubuntu in your future?
sources:
The Wall Street Journal
and
Co.Design
via
The Verge