Ubuntu Phone's 12 default apps will be "community created"
14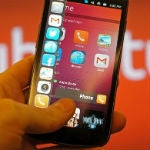 We can already see it coming, once Ubuntu for phones gets released, there is going to be a lot more talk about just how "open" Android really is. Mark Shuttleworth already made one such comment when introducing the platform, and Canonical is following through it seems. The newest is that Ubuntu Phone's 12 default apps will all be "community created".
Canonical is putting out the word now to get developers on the project. The 12 default apps will be made up of 8 "traditional apps" - a file manager, calendar, clock/alarm, weather, calculator, e-mail, document viewer, and a terminal app - and 4 "social apps" - YouTube, Twitter, Facebook, and an RSS reader. It's nice to see a terminal app in the works. We're sure power users will like that addition.
Each of these apps have a Wiki page, design guidelines, and message boards dedicated. So, if you're interested, just read through the docs and start helping out with the design.