Ex-Apple CEO says the Samsung Galaxy Tab line is the only serious iPad rival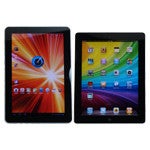 Say what? An Apple CEO, be it a former one, is saying something good about Samsung? That's exactly what happened with John Sculley saying that the Samsung Galaxy Tab slate line is the only valid competition that the iPad tablet line of Cupertino currently has.
And it's not even April 1 prank, since Apple's John Sculley says it in an interview about his upcoming memoirs. Steve Jobs enticed him to join Apple from being the CEO of Pepsi with the words you can't say no to: "
Do you want to sell sugar water for the rest of your life, or do you want to come with me and change the world?
".
I predict many good years ahead for Apple. The only serious tablet competitor in sight to the iPad at this time is Samsung's Galaxy. We know the landscape can change quickly but Apple has an extraordinary executive team. Companies like Sony are trying to deal with the challenges of the legacy businesses (like the money losing television unit) while Apple is riding a wave and can focus all its talent on the future.
John Sculley is also the guy who gave Steve Jobs the idea to focus on marketing the whole experience, not the actual product itself, which Apple is using to this day.