Everyone's after the golden Galaxy S6 & S6 edge, and Samsung has various theories to explain it
49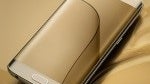 The smartphone arms race has become more of a gold rush, as according to Samsung's latest sales data, one in four European customers is always after the Galaxy S6 or S6 edge's Gold Platinum edition. The regal-colored device is either sold out, or near selling out, which Samsung interpreted as "a clear shift in European color preference" and adjusted production accordingly. Apparently, customers are becoming "more extroverted" in their color preferences compared to past years, when black and white smartphones dominated store shelves.
To better understand Europeans' golden craves, Samsung turned to lifestyle psychologist Donna Dawson. According to her, gold is the color of people who are striving for prosperity, white is for the outgoing types, and black is for aloof types who are also "hinting at their sexual allure and power". We assume some of them also own a black PS4 or Xbox One, and are accustomed to verbally expressing said sexual dominance over the competition in intense Call Of Duty deathmatches.
The writeup also contains some interesting facts about gold. For example, a good 7% of the world's gold production is used to build electronics devices as we speak. Yes, it's hard to believe even those cheapie
Samsung Galaxy Young
devices actually contain precious metals, but gold does get used for the wiring of microchips in almost all smartphones. And if you were to put a ton of old phones, sans their batteries, through a gold extraction process, you could yield as much as 300 grams of the stuff!
If you're interested in further reading, check out the official press release below. It's a surprisingly fun and educational read!
source: Samsung
SAMSUNG REPORTS GOLD RUSH FOR GALAXY S6 SMARTPHONES
Unprecedented consumer demand for Gold Platinum Galaxy S6 drives shortage

Expert Donna Dawson reveals psychology behind resurgence of gold trend
London, UK – 6th May 2015
–
Gold is the new black, according to the latest smartphone sales data from Samsung, with one in four consumers (23%) demanding the Gold Platinum edition of the Galaxy S6 and S6 edge. Stock in this colour is either sold out or near to selling out across European markets, signalling a clear shift in European colour preference.
Conor Pierce, Vice President IT and Mobile, Samsung Electronics UK and Ireland said: "For several years, black and white smartphones were the colours of choice for mobile trend setters. However, based on the early feedback we are getting from the market, consumers are becoming much more extroverted in their colour preferences.
"Since the Galaxy S6 and S6 edge went on sale last month, we have seen similar demand for Gold Platinum as our more traditional White Pearl and Black Sapphire colour options. We have been surprised by the reaction from the market, which means we are having to intensify our production of Gold Platinum to keep up with demand."
Lifestyle Psychologist Donna Dawson explains why gold is making such a strident comeback: "The colour 'gold' represents wealth, abundance, high ideals, optimism and wisdom. After years of recession and tightening our belts, we are now beginning to see some economic improvements and we dare to hope for a better future. We have been craving the material things and good times that we feel have been denied to us for so long – and now that we can now see a light at the end of the tunnel, we are instinctively reaching for gold."
Golden years

Historically, gold has come in and out of vogue with consumers. However, it is not since the 1980s – in an era of oversize hooped earrings, loud gold necklaces and powerful shoulder pads – that gold has had an opportunity to shine.
Now, having spent more than two decades in the shade of more subdued colours, there are a number of indicators that gold is reigning supreme again. These include the increasing presence of gold jewellery on international catwalks and celebrity red carpets, through to a resurgence in gold wedding rings and makeup. Even gold teeth are making a comeback, with a number of celebrities, including Madonna, Rihanna and Miley Cyrus spotted in recent months sporting golden 'Grillz' – teeth jewellery popularised by hip-hop stars of the 1990s.
The psychology of colour

Samsung's latest smartphones come in three different colours including White Pearl, Black Sapphire and Gold Platinum. Donna Dawson explains the psychology behind each colour choice.
Gold Platinum

"People who choose gold as their preferred colour are striving for prosperity, financial success and general contentment. They tend to be luxury-loving and enjoy the finer things of life, indulging whenever they can (sometimes even when they cannot!). They are outgoing, warm, and enjoy the company of others. They also tend to have strong intuition. Meeting challenges and "winning" are important to them, but they are generous to friends and family when successful.
"Gold is at the 'warm' end of the colour spectrum, and is a warmer version of yellow – and so it also picks up on yellow's attributes of idealism and optimism. The colour gold sparkles and shines and appears to give off warmth in the way that sunlight does, and in the way that gold nuggets appear to do. Sunlight is essential to physical survival, and gold metal is essential to our financial success. And so there is something instinctive about humans reaching out for gold. Of all the colours, yellow (and by extension, gold), attract the eye like no other colour. In fact, it is considered the "largest" colour. This is because in full daylight, 'yellow' is at the point of highest visibility in the colour spectrum: the eye focuses it clearly, without aberration, and it is only slightly refracted by the eye lens."
White Pearl

"People who choose white as their preferred colour tend to be status-seeking extroverts. Because white contains all the other colours, it is the only dual-natured colour apart from black. It can represent wisdom, honesty and purity; but also brashness, an open nature and over-confidence. The symbolic "innocence" of white has been replaced in today's world with the knowing status of owning something white (signalling that you are well off, because you can afford to keep this colour 'clean'). White is seen by the eye as the second-largest colour, after yellow."
Black Sapphire

"The colour black is technically not a colour at all, but a representation of the "absence of light". Because in black we can sense "nothingness", this colour becomes symbolic of everything hidden, veiled, uncertain or unknown. black represents both the end of things as well, as the beginning of things (the world is assumed to have sprung out of chaos, so all colours supposedly derive from black). This makes black, like white, a colour with dual meaning.
"Both historically and culturally, black has been associated with aggression, and it has always been the colour of choice of the loner, rebel or "outsider". It symbolically shows a denial of the sensual life, but paradoxically hints at hidden depths of sensuality. It has been associated with religious orders; sober professions such as lawyers, scholars and merchants; with the act of mourning; with night-time and the supernatural; high drama and romance; sexual villainy, sexual excitement, and the rejection of convention. And so the person who chooses black as their preferred colour is striving to be recognised for their individualism, independence and their ability to stay aloof from the crowd, to play their cards close to their chest, and to be a leader. They are also hinting at their sexual allure and power, as well as their hidden depths."
Gold facts

There is genuine gold inside almost all smartphones, used for the wiring of microchips
A ton of old phones (weighed without their batteries) could yield as much as 300g of gold
Gold is edible (the Gold Platinum Galaxy S6 is not)
Most of Earth's gold came from a meteorite bombardment 200 million years ago
The 'Italian Job' gold would now be worth over $40 million
Around seven per cent of the world's gold production is used to build electronics devices
Europe accounts for just under 8 per cent of consumer gold demand
For more information on Samsung, please visit: www.samsung.com/uk.
Recommended Stories