Even with your phone's volume off, you can be alerted about an emergency with TeXTe for Android
3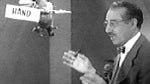 Perhaps you remember
the secret word
which was part of Groucho Marx's game show
You Bet Your Life
. A word was selected as the secret word of the day and if it was said during the course of the show, a big commotion was made. A toy duck outfitted to look like Groucho, down to the cigar between its bill, came down from the ceiling with $100 to give to the lucky contestant. What brings up a game show that is as old and obscure like this, is a app available for Android devices called
TeXTe
.
Certainly you've been in a situation where for one reason or another you have the volume on your phone turned off and forgot all about it, and you might have had the vibration turned off too. But of course, that turns out to be exactly the time when something urgent occurs that requires your immediate attention. It could be an emergency at home or some pressing matter at the office. How can your wife or secretary get in touch with you so you can handle the crisis?
This is where TeXTe comes in. With the app installed on your Android phone, your wife or secretary text you a pre-arranged secret word (see how this all ties in?) and it sets off an alarm on your phone even if your volume is off. The beauty of this app is that the word can be sent from any phone, so even if your wife let the batteries on her
HTC Rhyme
die, she can borrow someone's handset to send you an alert if needed.
TeXTe is a free download from the Google Play Store and we bet that more than just a few of you will find it comes in handy.
source:
GooglePlayStore
via
RedmondPie