Even as Android widens its lead over Apple in the U.S., the ultimate prize is RIM's slot at number 1
10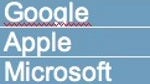 The latest numbers from metrics firm comScore show a pair of trends that remain in force in the U.S. smartphone market. One is that market share leader RIM continues to lose ground in the U.S. and the other is that Google's open source OS is pulling away from the Apple iPhone for second place in the U.S. smartphone market.
RIM has a problem on it's hands in the U.S. Back in September, the Canadian based manufacturer of BlackBerry handsets held a 37.3% share of the Stateside smartphone market, good enough to be on top. But the steady increase in marketshare by Android to 28.7% from 21.4% during that same time period, combined with a very minor increase in the iPhone's marketshare to 25% from 24.3% all combined to knock RIM's leading share to 31.6%. Even the availability of the "best BlackBerry of all time" could not stem the tide as the BlackBerry Torch 9800 was crippled by specs that were far from cutting-edge.
We could see some of the trends shaken up with the report that ends in March. At that time, we will see what influence the Verizon branded Apple iPhone 4 has over Big Red's Android line-up. The iconic Apple touchscreen device will be launched on Verizon February 10th and some analysts expect to see as many as 3 million units sold by Verizon by the end of March.
source:
AppleInsider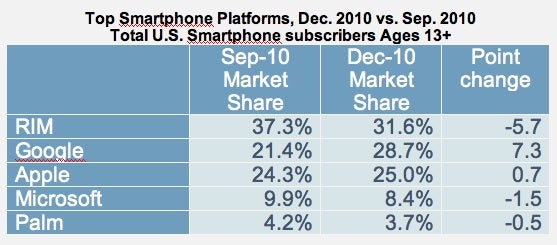 Google's open source OS and Apple's iOS were the only two platforms to gain ground in Q4 of 2010