European privacy watchdog concerned Google Maps for iOS violates law
20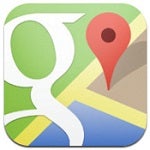 Google Maps for iOS was an
instant success
. The Independent Center for Privacy Protection Schleswig-Holstein in Germany says that the set-up page upon launching Google Maps in iOS for the first time violates European data protection law.
Like most smartphone applications, Google Maps prompts users to accept the terms of service and its privacy policy in its initial start-up screen. Google provides the familiar warning that the user is about to share location data and that anonymous information is collected to improve the application. The option box next to that warning is selected "on" by default, and does not provide an "opt-out" selection, which violates European data protection law. What is more interesting is that even if Google were to offer an opt-out possibility now, the current implementation of the app would still be rubbing the wrong way against the law.
Google reiterated that users can turn the information collection feature off any time which is fine, but that really is not the point given that the EU has already been poking holes in
Google's overall privacy policy
. Providing an update where that check box is not pre-selected and allowing an "opt-in" feature is clearly not a programming intense task (not for Google anyway) and since new apps usually have some minor updates pushed through soon after initial release, it is possible that Google may be able to address these concerns before any formal inquiries are made.
sources:
Computerworld
via
Ars Technica