European Commission presses charges against Google for anti-competitive behavior
94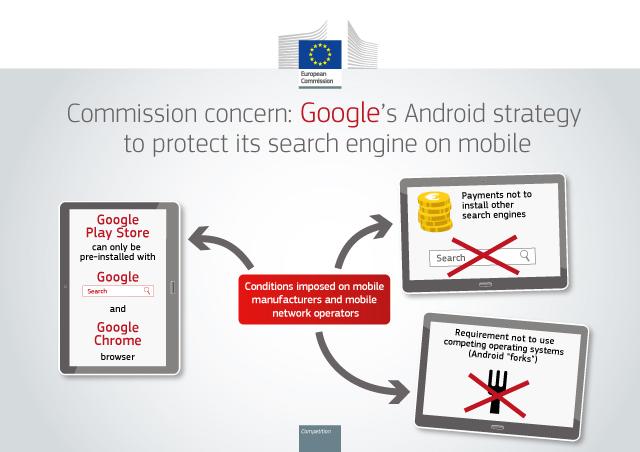 This Monday,
news broke out
that the European Commission could charge Google (and Alphabet, its parent company) for anti-competitive behavior if it reasoned that the company gives its apps and services unfair advantage by negotiating their pre-loading on Android devices with partnering manufacturers and carriers. If the court deems Google guilty, the EC might impose a fine that could reach $7.45 billion, 10% of the company's annual earnings for 2015.
Today, EU competition commissioner Margrethe Vestager formally announced the decision to press charges, accusing the Android stronghold of
"abusing its dominant position"
and
"imposing unjustified restrictions and conditions on manufacturers of devices."
Following its investigation, the Commission determined that Google is breaching European competition law by pre-loading its applications and services (such as the Chrome browser, Maps, and Search) on Android devices in a manner that does more harm than good.
Google has landed itself in hot water once again.
Although users get the benefit of enjoying a solid set of software for free right from the get-go, they also refrain from discovering and installing new apps. Being the supplier of the Android operating system, Google enjoys the privilege of outfitting consumer devices with its full software suite, and its contracts with partnering hardware manufacturers are found to contain clauses prioritizing the Chrome browser and Google Search over possible alternatives suggested by manufactures and carriers.
Furthermore, Big G lines up these conditions with cash, offering "financial incentives" towards pre-loading the rest of its mobile apps and services. As part of its Anti-Fragmentation Agreement it also prevents manufacturers from selling devices that run competing operating systems based on the Android open source project. The Commission has found evidence that
"Google's conduct prevented manufacturers from selling smart mobile devices based on a competing Android fork which had the potential of becoming a credible alternative to Google Android."
It's easy to see how the company's position of power puts its software competitors at a considerable disadvantage. But Ms. Vestager is concerned that consumers are harmed too, because they aren't given the widest possible choice and the current status-quo
"stiffles innovation."
However, Google is adamant that it means no harm. Senior VP Kent Walker insisted that Android is an
"ecosystem based on open innovation"
and said the company will demonstrate that the platform is
"good for competition and good for consumers."
However, the company opposes the notion of changes to its smartphone business that would give its partners in Europe the freedom to hand-pick pre-loaded applications. The European Commission has objected miltiple times against ending the case, which means the dispute is yet to reach its conclusion.
source:
Europa.eu
via
CNET