Essential Phone prototype caught on video in public transit
29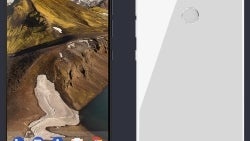 So far, most of the world has only seen the
Essential Phone
in static images. There are no video previews, hands-ons, or reviews of Android creator Andy Rubin's peculiar smartphone. The best we've got to work with for now is a newly published Snapchat video that's only 10 seconds long, but is entertaining nevertheless.
Taken in public transit, the paparazzi video shows someone using a prototype Essential Phone. WhatsApp and the notification drawer are being used and clearly visible. The prototype phone looks exactly like the final unit up front, so this is as close as seeing the real thing being taken out for a spin as it gets.
The Essential will be sold exclusively by Sprint in the U.S., though it will also be available for purchase unlocked from the company's website. Shipments are expected to start in the late summer. The smartphone costs $699 on its official website. It is powered by Qualcomm's top processor, the Snapdragon 835, alongside 4GB RAM and a dual camera setup. The phone runs a modification of Android that's ready to be integrated into a future smart home ecosystem.
Read more about the innovative Essential phone in the links below the video.