The Essential Phone is official: a bezel-less handset for the future by the creator of Android
82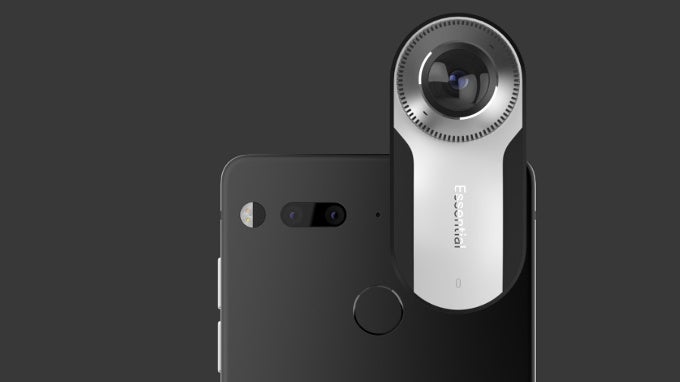 The
Essential Phone
has just broken cover. It's the first phone by the namesake company, conceived by Andy Rubin, the person who created Android and showing his idea of what the Android phone of the future should look like.
And it's a daring new device: it's a true bezel-less phone with a full-screen display that takes even more of the front than the Galaxy S8, and it's a modular phone at its core.
A new rival to iPhones and Samsung Galaxies emerges
Plus, it's an all-out flagship phone that is launching first in the United States. It's got all flagship bells and whistles: the top-end Qualcomm Snapdragon 835 system chip with 4 gigs of RAM, and a whopping 128GB of on-board storage.
But it's also different than many flagships in its philosophy: it ships with no junk bloatware, and it does not even have a logo, a welcome change from popular flagships where you often have overwhelming stamps and logos all over the place. The Essential Phone is also a philosophy, one that Andy Rubin himself outlined in these three key principles:
Devices are your personal property. We won't force you to have anything on them you don't want to have.
We will always play well with others. Closed ecosystems are divisive and outdated.
Devices shouldn't become outdated every year. They should evolve with you.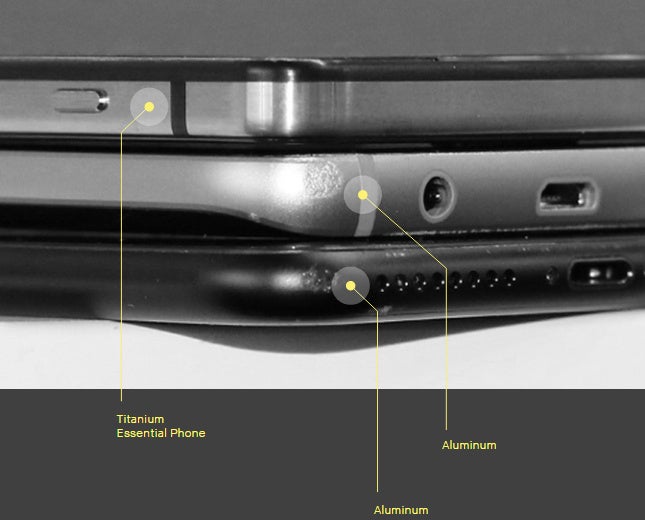 No dent on the Essential Phone after a drop
The phone is also made to last. Since it's a bezel-less design, it's especially important that the Essential Phone is durable.
To ensure this, the company uses titanium for the body of the device, a material so hard that when you drop the phone on its edge, it does not dent or scratch like aluminum. The back is made of ceramic, a material that is very hard to scratch. In terms of colors, the Essential Phone will be available in black, grey, white and a dual-tone model. Of course, it has gone through drop tests to ensure that it will withstand the damage of an average drop as much as possible.
Essential Phone
Platform
Android 7 Nougat
Display
5.71" LTPS LCD with 19:10 ratio
2560 x 1312 pixel Quad HD
Dimensions
Weight
141.5 x 71.1 x 7.8mm
185 grams
SoC
RAM
Snapdragon 835 (10nm)
4GB RAM
Cameras
Dual rear camera (13MP Dual RGB + Mono fusion system)
8MP front cam with 4K video
Storage
128GB UFS 2.0
- no microSD card slot
Battery
3,040 mAh
with USB-C fast charging
Special features
Titanium body, Ceramic back, Gorilla Glass 5
Magnetic dock, 6Gbps Wireless Accessory Connector
4x microphones with noise cancellation support
Bluetooth 5.0 LE
But the real magic, the special sauce of the Essential Phone is that it is trying to create something new: a system of accessories and modules. For this, the phone has a magnetic connector in the form of two dots located on the back of the phone, where you can snap additional modules. The handset also comes with a dedicated wireless data transfer connector that supports speeds of up to 6Gbps. The first accessory coming with it is a 360-degree camera that you can magnetically snap to the back of the phone. It comes as a bundle with the phone for just $50 on top of the Essential Phone's price.
On the back, the Essential has got a dual-camera system. It's not like the one on the iPhone, though. Here, the secondary camera is monochrome one, that captures much more light, and the output from the regular camera combined with the monochrome picture is combined for a superior end result. Up front, there is an 8-megapixel camera for selfies that shoots 4K videos.
It should also be noted: the Essential Phone does
not
have a 3.5mm headset jack, just like the iPhone 7.
Essential Phone price and release date
You can reserve your Essential Phone starting today, May 30th, but this does not mean that you will get it soon and a reservation is not a pre-order. In fact, Essential is clearly saying that it is not yet ready to provide a specific release date for the phone. We know the price: it's $700 for the phone, slightly above the price of a modern flagship like the iPhone, but on par with the Samsung Galaxy S8, and $750 for a bundle with the magnetically connecting 360-degree camera.
We also know that the Essential Phone has the proper 4G LTE support and CDMA support to run on all four major U.S. carriers including Verizon, AT&T, Sprint and T-Mobile, but we do not yet know when it will be available. It's also not clear when or whether the phone will be available outside the United States, but chances are that this will happen at a further time in the future.
Sure, the Essential Phone will have a hard time competing against the iPhones and Galaxies in the world, but it provides something else: a breath of fresh air for those who want something new and something different in a flagship. We for once, can't wait to try it.