Eric Schmidt tells senators that Siri could be a "threat" to Google
67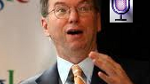 Google Chairman Eric Schmidt
has seen the future of search, and he is afraid that it might just be a disembodied voice. Responding to follow-up questions written by U.S. senators on the anti-trust committee following a September hearing, Schmidt calls Apple's voice activated personal assistant
Siri
a "significant development" that could overtake Google's search engine in the future. Writing about Siri, Schmidt said, "
Even in the few weeks since the hearing, Apple has launched an entirely new approach to search technology with Siri, its voice-activated search and task-completion service built into the
iPhone
4S
." The executive noted how two publications have called Siri a "
Google-Killer
" and the first step by
Apple
to enter the search business.
Schmidt admitted that
he was wrong back in September 2010
when he said that both Apple and
Facebook
did not pose a threat to Google's search business. He wrote, "
My statement was clearly wrong. Apple's Siri is a significant development—a voice-activated means of accessing answers through iPhones that demonstrates the innovations in search
." He added that Google has plenty of competition and that sometimes new competitiors are overlooked. He pointed out that Google competes against other search engines like
Yahoo
and
Bing
, specialized search engines like
WebMD
,
Kayak
and
eBay
, social networks like
Twitter
and Facebook, commercial software firms like Apple and
Microsoft
, third party apps and navigational tools.
In communicating with an anti-trust committee, it obviously makes sense for Schmidt to make Google sound like just another competitor in the searchh industry, and not a possible monopoly. He states, "
By investing smartly, hiring extremely talented engineers, and working very, very hard (and with some good luck), Google has been blessed with a great deal of success
." Google current controls 65% of U.S. search inquiries, 94% in Europe and 97% of smartphone searches.
source:
AppleInsider