Engineer claims that Consumer Reports is wrong about the iPhone 4
This article contains unofficial information.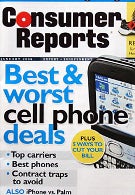 Bob Egan is an electromagnetic engineer who calls himself a "mobile expert". Coming to the defense of Apple and the iPhone 4, Egan claims that the tests conducted by Consumer Reports, which allegedly prove that the iPhone 4 has a reception problem not caused by the AT&T network, is flawed. While the magazine said that the test results prevent them from rating the handset, Egan says that CR's testing was not scientific. The engineer wrote, "Bottom line. From what I can see in the reports, Consumer Reports replicated the same uncontrolled, unscientific experiments that many of the blogging sites have done," and adds, " We also don't know if placing a finger on the antenna bridge is detuning the antenna or detuning the receiver itself." Egan feels that AT&T is to blame for some of the problems that the new iPhone has had with dropping calls and losing signal bars.
CNET author Joe Aimonetti says that he can replicate the drop in signal strength when he holds the unit in the lower left corner. Because he has not dropped a call or suffered lower call quality despite the lower number of signal bars, he feels that this proves that the problem is indeed a software problem like Apple claims and can be corrected with an upgrade. Will we ever get a final answer that cannot be challenged or is this battle destined to become the hi-tech version of the Hatfields and the McCoys?
Apple iPhone 4 Specifications
|
Review
source:
iPhoneAtlas