Encryption by default may be causing performance issues for Android 5.0, and you may not be able to fix it
20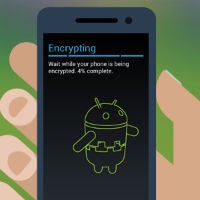 Before the new Nexus devices were released, and before Android 5.0 Lollipop made an official appearance, we learned that new Android 5.0 devices would have encryption turned on by default. While this is a boon for the security conscious, it appears that decision by Google could also be causing performance issues that some won't be able to fix.
AnandTech
thought that the default encryption could be the cause of the performance issues that users had been reporting with the Nexus 6 and Nexus 9; so, the outlet requested an unencrypted Nexus 6 from Motorola for testing. The tests confirmed the worst, that read performance on an encrypted Nexus 6 could drop as much as 63%, and write speeds could be hampered by up to 50%. And, the worst part of this is that anyone buying a new device that ships with Android 5.0 will have encryption automatically turned on during the activation process, and once that is done, there is no way to turn off encryption.
Luckily, if you have updated your device from an earlier version of Android to Lollipop and then turned on encryption afterwards, you can revert to being unencrypted, and regain the performance benefits. Undoubtedly, the mod community is working on a way to allow Nexus users to turn off encryption, but we're hoping that Google is also looking for a way to either improve performance, or allow users to turn off encryption.