Email bug affecting Gmail users on Windows Phone 8?
2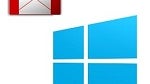 Not everything goes according to plan right? It appears that there are some synchronization issues with Gmail and Windows Phone 8 which ultimately results in the email client crashing. It does not appear to affect any particular line of devices, meaning it may affect HTC or Nokia owners.
The problem appears in the People Hub and the related linked contacts from Gmail as well as in the email application itself. In both cases, the affected devices get stuck in a constant state of synchronization. In the email application, the synchronization continues and the app itself closes. A result of such constant syncing would be severe battery drainage. So, if you are having battery issues with your new Windows Phone, and you have a Gmail account, see if you are encountering these sync issues.
The cause is not known, the fact that this does not seem to be a consistent or persistent issue could mean anything. We were not able to replicate the issue on one of our WP8 devices, yet the folks at WinSource were able to. In fact, their Windows Phone wound up in a cycle of all accounts on the device in a perpetual state of "sync." The issue may be related to Google's IMAP
2
implementation, which, like other Google services, is updated in the background regularly. A recent update might be the source for the constant synchronizing. That seems to be the simplest explanation since this issue has apparently just popped up over the past day or so.
If you are encountering this ongoing synchronization issue, the folks at WPCentral are reporting that the only way to stop the cycle is to reset your device, deleting the Gmail account apparently will not do the trick. Again, we could not create this problem on our Windows Phone 8X device and as such we cannot provide direct insight. If you have not yet set up your Gmail account on your Windows Phone and are concerned for the near-term, try setting up your account as an "email only" for the time-being as that would connect you via POP.
Another option you can try is to set-up your Gmail as an Exchange ActiveSync account on the phone. To do that, go to settings > email + accounts > add an account > advanced. Then enter your Gmail email address and password, leave "Domain" blank, and the server address is: m.google.com.
Let us know if you encountered this issue and share your ideas about what has, or has not fixed it.
source:
WPCentral
and
WinSource